Is running bad for you??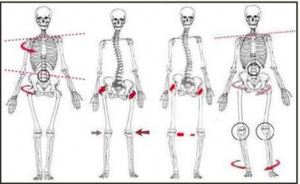 Running & Posture……
There is a real connection between physical injuries and misaligned posture.
Running doesn't produce injuries.
A body with joints that are misaligned due to muscle imbalances produces injuries.  A body with joints that are truly aligned do not produce injuries.  Misaligned joint positions due to muscle imbalances are totally fixable.  …..  Joints should maintain right angles but can still function for limited periods if they aren't.  There is a price to pay for joints out of position, wear and tear, inflammation, breakdown of joint capsules, bone spurs, cartilage degradation, torn ligaments, tendons, shredded menisci, etc.
If you have flat feet, bow legged/knock knees or your hips are out there is a very high chance that you will eventually pick up a  injury down the track, especially relating to knees.
Make sure the next time you get a massage you get properly assesed.